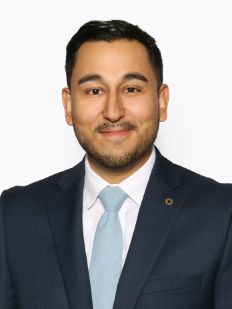 Eric Gallardo joined Frost Investment Advisors, LLC in February 2017, and has over 5 years of experience in the financial services sector. As a Compliance Analyst with the Adviser, Eric works in tandem with other compliance personnel to verify the Adviser's compliance with internal policies and procedures, specifically the Investment Advisers Act of 1940 and the compliance of Frost Sub-advisor's with '40 Act requirements as they apply to registered funds. In addition, he also assists with the effort to conduct the due diligence and analysis of all marketing collateral produced by the Adviser.
Prior to joining the Adviser, Eric worked as a commercial business underwriter for The Hartford. He also worked as a personal banker at J.P. Morgan Chase, and a general business analyst at CPS Energy.
Eric earned a Bachelor of Business Administration degree in Finance from the University of Texas at San Antonio (2010).
CAMS® is a title earned from the Association of Certified Anti-Money Laundering Specialists (ACAMS®). A professional becomes certified through work experience, education, and passing the CAMS examination. CAMS programs address terrorism financing, anti-money laundering, compliance programs, and anti-money laundering investigations.