Business Checking Account
The Technology You Need to Do Business from Anywhere
Our top-rated apps, full-service online banking and digital deposits let you easily manage your account, in the office or remotely.*
Frost App for iPhone® & Android™ Devices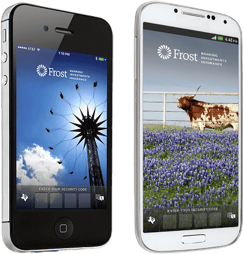 The Frost App for iPhone® and Android™ devices allow you to do your banking from wherever you do business.
Mobile and Scanner Deposits
Deposit checks anywhere with the Frost App for iPhone® or the Frost App for Android™ devices.
One of the highest daily limits in the business, up to $100,000 daily
Deposits made before 9 p.m. are almost always available the next business day
Desktop & Tablet Banking Tools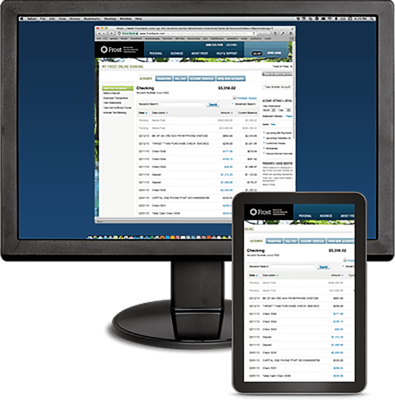 Our online tools are available all day, every day, to help you manage all your financial needs.
Deposit checks with scanner
Send money anywhere
Make a loan payment
Pay your bills
Add memos for your records
Does your business need to give multiple users access to the account or make wire transfers? Explore Frost Connect
View & Save Deposited Check Images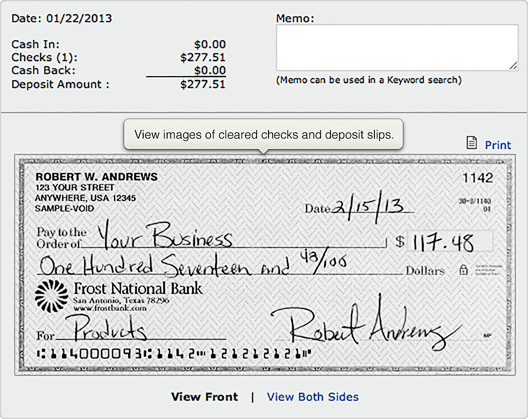 This optional service allows you to view, print or save images of the front and back of customer checks your business has deposited.
View checks and deposit slips from the past 18 months
Add memos to your deposits
Search checks by amount of deposits
Save to your computer or print for your records
Business customers can subscribe to use this service for $5 per month.
Debit Card Alerts
Real-time alerts are sent straight to your phone, keeping you a step ahead of fraud. And because they're personalized, you can set them up to monitor things like online purchases, out-of-country transactions or pay-at-the-pump transactions.
Access to Your Money, When and Where You Need It
Find one of our 1,200+ ATMs or the motor bank closest to you.
---
Fast Access to Funds
Deposits made before 9 p.m. will almost always be available the next business day. Those include deposits made with the Frost App for iPhone® and Frost App for Android™ devices, scanners or multifunction printers and Frost ATMs
Over 60 ATMs Near You
Access to your cash from the 60+ ATMs in Dallas, or from 110+ Frost financial centers and 1,200+ ATMs across Texas, including participating H-E-B® and Corner Store locations.
FIND A LOCATION
Request a Call or Email
Opening the best checking account in the business is as easy as downloading the best app in the business.
Service Only Frost Can Give You and Your Growing Business
We offer personalized, expert service from bankers who understand businesses in our communities. So, as your business grows and changes, we'll know how to help your plan for the challenges ahead. But don't take our word for it, hear what our customers have to say, or better yet, give us a call:
I have gotten clear advice from them each step of the way and know that whenever I have a new questions as my business expands, they will wow me with good service, timely turnaround and 'can-do'attitude."
- Robert, Pflugerville,TX
"Nobody take care of your banking needs as Frost does. Thire system is fast; their representatives are courteous and knowledgeable. What i love the mose is that you don't have any hidden fees and wonder where they came from !"
- Cristina, San Antonio,TX
"Frost provided me with a great alternative to my other bank's business account offerings. One that fit the needs of a start up business. And, since the service i have received from my banker at Frost has been stellar, I transferred all of my personal accounts to Frost as well."
- Lowell, Austin, TX
"I am always acknowldged by name, and I have the direct email addresses and contact numbers of Frost employess who can help me. I am not a 'big fish' when it comes to the banking business, but with Frost, I feel like i am.."
- Tiffany, Richardson, TX
"Before switching our business and personal banking to Frost, we were plagued with excessive fees for all sorts of things from other banks. Even though we've been with Frost for three years or more, I still get a feeing of relief when reviewing my monthly statements."
- Paula, Bedford, TX
Bankers Who Answer Their Phones
Serving our customers with respect and courtesy is at the core of everything we do. To truly experience the difference, all you have to do is call… and we'll promise to answer.
---
Opening an Account is Easy
Pricing That Adjusts to Your Needs and Your Budget
Our monthly fees are simple, straightforward and less than what some other banks charge. Here's how your account activity determines how much you pay:
See how we compare to other banks
MONTHLY SERVICE CHARGE
| With | Frost Business Checking | Bank of America Business Fundamentals | Chase Total Business Checking | Wells Fargo Business Choice Checking |
| --- | --- | --- | --- | --- |
| With service charge | $10 | $16 | $15 | $10 |
HOW TO AVOID MONTHLY SERVICE CHARGE
Charge
Frost Business Checking
Bank of America Business Fundamentals
Chase Total Business Checking
Wells Fargo Choice Checking
Minimum Daily Account Balance
$1,500
$3,000 min, $5,000 avg
$2,000
$500 min, $1,000 avg
Minimum Combined Average
Daily Balances of business deposit accounts under the same business name
$15,000

$15,000 business balances only

not offered
not offered
Spend a minimum on Business Debit Card
$1,000 per statement cycle
Having a Business Checking Plus Account
EXAMPLES OF MONTHLY PRICING
Pricing
Frost Business Checking
Bank of America Business Fundamentals
Chase Total Business Checking
Wells Fargo Choice Checking
150 items + $4,300 Cash Processed
$10
$16
$67
$35
200 items + $15,000 Cash Processed
$19
$38.50
$112
$82.50
700 items + $50,000 Cash Processed
$104
Consider our Analyzed Account for your more complex banking needs
$368.50
$399.50
$437.50
FEATURES
| Features | Frost Business Checking | Bank of America Business Fundamentals | Chase Total Business Checking | Wells Fargo Choice Checking |
| --- | --- | --- | --- | --- |
| Daily Digital Check Deposit Limits | up to $100,000* | $99,999 | $100,000 | varies |
| Out-of-network ATM Fee | $2 | $2.50 | $2.50 | $2.50 |
| Overdraft Protection Transfer Fee | $0 | $12 | $0 | $12.50 |
| Online Transaction History and Check Images | 24 months | 18 months | 84 months | 84 months |
| Download Transactions to Quickbooks and other PFM® | Free | Free | Free | Free |
| Images of Deposited Checks | Available | Available | Available | Available |
---
Data for Bank of America, Chase, and Wells Fargo provided by:

Information effective 02/01/2021
Data for Frost Bank, and all mobile app ratings provided by Frost Bank
*Fees may apply
Estimate your monthly charges
MONTHLY SERVICE CHARGE:
Base Account

$10 monthly service charge is WAIVED with combined average daily balance of $15,000 in business deposit accounts under the same business name.

See what's included.

$10

Items Processed Monthly

Estimate the number of monthly account items processed, such as a check deposits, checks written and checkcard purchases.

See complete list.

$0

Cash Processed Monthly

Estimate the amount of cash processed each month. This includes cash deposits and coin/currency requests like change orders and cash back.

$0

Optional Online Services

Online Banking for Business

Provide read-only access to up to five employees or third-parties, such as a bookkeeper, so they can view account information but not initiate transactions
View images of the checks your business has deposited over the past 24 months

With Frost Digital Deposits, you can deposit checks using the Frost app for iPhone or Android Devices, a scanner or a multifunction printer.

View more details.

$0

Your Estimated Cost Per Month

This cost is based on the account activity and online services as described above and is subject to change each month, depending on your level of activity. This is not a complete representation of all account fees - refer to our schedule of fees for additional information.

View Complete Pricing Chart

$10