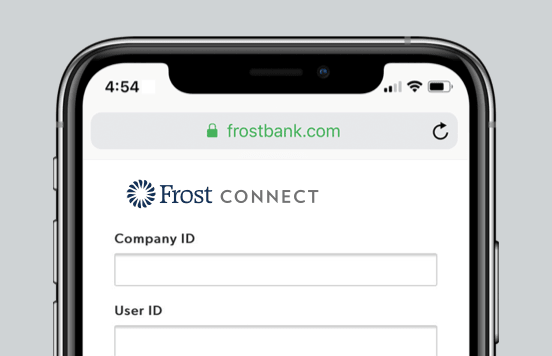 The Functionality You Need, The Convenience You Want
Frost Connect, Frost's business online banking service, provides easy access to your account information and business finances – anytime, anywhere. Designed with your time and money in mind, this unique system enables you to manage account information, make smart business decisions and move money as needed. This cash management system makes accessing your accounts easy and includes enhanced account views and a customized dashboard.
---
ADVANTAGES OF FROST CONNECT
It's available anytime, anywhere you have Internet access, even on a mobile device
Approve transactions from any location with a mobile friendly experience
Deposit your checks using a Frost-issued scanner through Frost Remote Deposit Capture
Save on bank fees by initiating your own transactions online
Saves You Worry
Know your cash position and manage account data anytime
Receive custom alerts via text, email and voice
Keep your information secure with multi-factor authentication at login
---
MANAGING YOUR CASH FLOW HAS NEVER BEEN EASIER
Detailed Account Information Online
View accounts for multiple companies in one location
Stay informed on current day activity with a customized live dashboard
Review account activity with up to an 18-month rolling history
Access check and deposited item images
View and manage commercial loans
Optimal Security Features
Securely log in using a unique one-time-use password generated by your Frost Security Token
Set permissions for each user to manage multiple accounts
Receive alerts by email or text message when a payment needs approval and other actions
---
FROST CONNECT OFFERS TWO ONLINE BANKING SYSTEMS TAILORED TO MEET YOUR BUSINESS'S NEEDS:
Easily manage your small to mid-market business accounts with online banking tools to help you monitor and control your cash flow
Provide users custom access to manage multiple accounts
Easily select user permissions consistent for each account
Manage up to 25 personal and business accounts across multiple entities in one place
Quick and easy online access to a broad range of online business banking services
Prevent check fraud by viewing and approving checks presented for payment with Positive Pay
Issue and cancel stop payments of checks
Manage payee and employee information through a customizable Contact Center
Send direct deposit payroll, tax payments and more to your employees using ACH origination
Manage commercial loan payments and draws
Schedule domestic and international wire transfers
View up to 7-years of account statements and 18-months of check images
Export transactions to QuickBooks software
Learn more about Frost Business Connect
Frost Treasury Connect
Conveniently manage multiple accounts and control cash flow, all from one corporate online banking portal with a customizable dashboard for your commercial banking needs
Provide custom access to users based on job function
Efficiently personalize permissions for each user account by account
Manage multiple personal and business accounts across multiple entities in one customized dashboard
Quick and easy access to online Treasury Management Services
Prevent fraud by viewing and approving checks presented for payment
Prevent electronic fraud by viewing and approving ACH items presented for payment
Issue and cancel stop payments of checks
View images of Lockbox items to know current funds availability
Schedule, process and submit recurring payments with ACH origination
Manage commercial loan payments and draws
Schedule recurring domestic, international and Federal Tax wire transfers
Manage your international business conveniently through the Global Trade Services portal
View up to 7-years of check images, account statements and account analysis statements
Export transactions to a variety of software packages and export formats
Learn more about Frost Treasury Connect
We're here to help
Contact a Frost Treasury Management Officer for more details about Frost Connect Online Banking Service Monday – Friday from 7am – 6pm CST at (888) 481-0336.
We're here to help
Contact a Frost Treasury Management Officer for more details about Frost Connect Online Banking Service Monday – Friday from 7am – 6pm CST at (888) 481-0336