Frost Personal Account
The essential account to feel confident about your money.
Open account

0

monthly service charge
when you meet any one of the following:
Direct deposit totaling $100+ per month OR
Keep a minimum daily balance of $1,000 OR
Combined average daily balance in personal accounts of $5,000 OR
An owner on the account is under 25
The benefits of banking with Frost begin here
24/7 customer service

$100 overdraft grace

Access to direct deposits up to two days earlier

Deposits made before 9 pm CT generally available next business day

Bank anytime with our mobile app

1,700+ ATMs including H-E-B and Circle K locations statewide, plus CVS and Walgreens stores in North Texas

Earn interest monthly at some of the best rates in the industry
Is there a word for a fourteen-peat?
Our loyal passionate customers mean everything to us, and thanks to them, Frost has received the J.D. Power Award for "Most Satisfying Consumer Banking Experience in Texas" — 14 years in a row. Learn what all the celebrating is about at frostbank.com/why-frost.
For J.D. Power 2022 award information, visit jdpower.com/awards.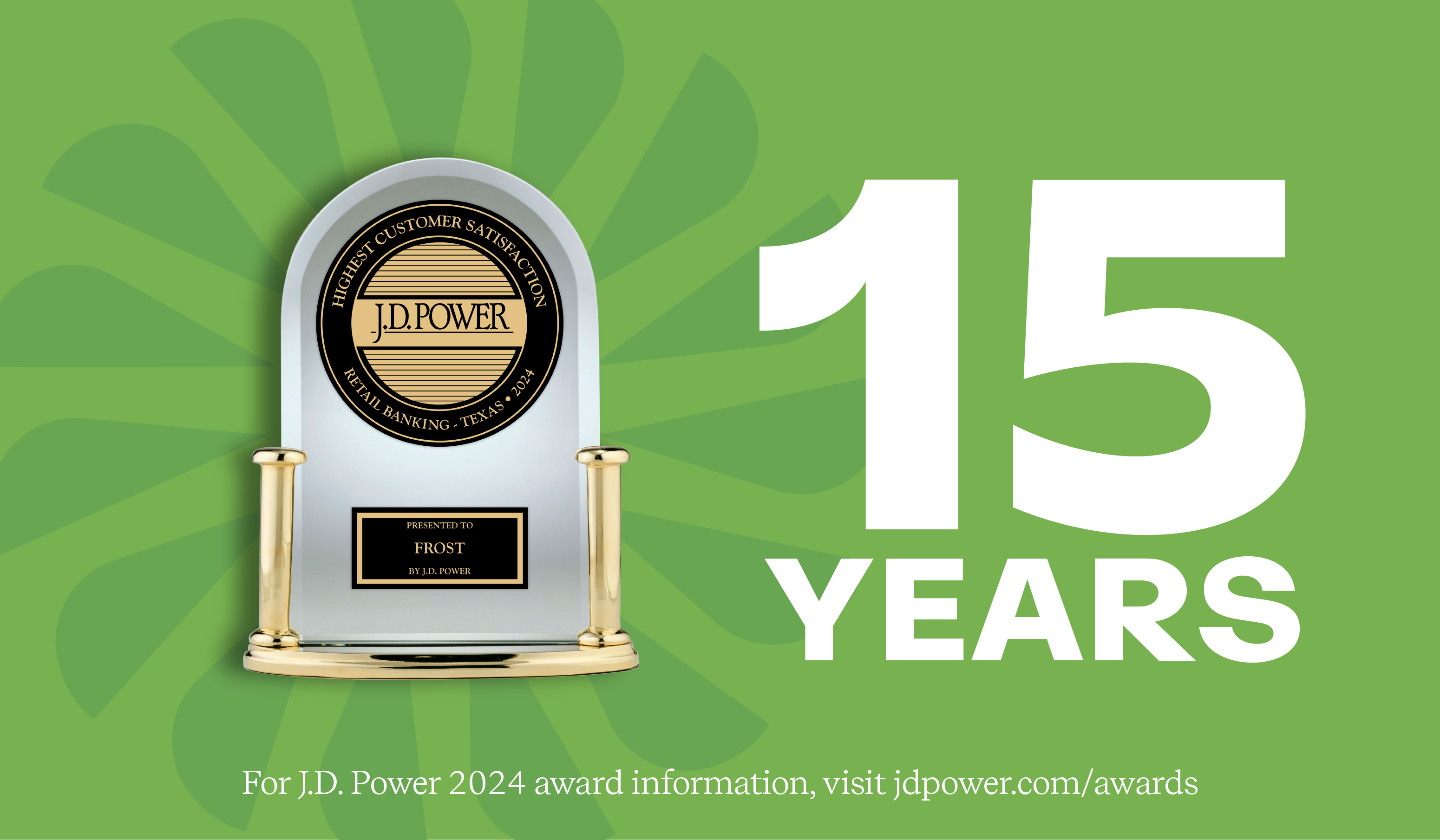 It's about getting you the best savings interest rates.
Interest rates continue to rise and we keep working quickly to pass those rates on to you. At Frost, having higher savings interest rates is a priority for us. It's one of the many ways we put our customers first and help them grow financially.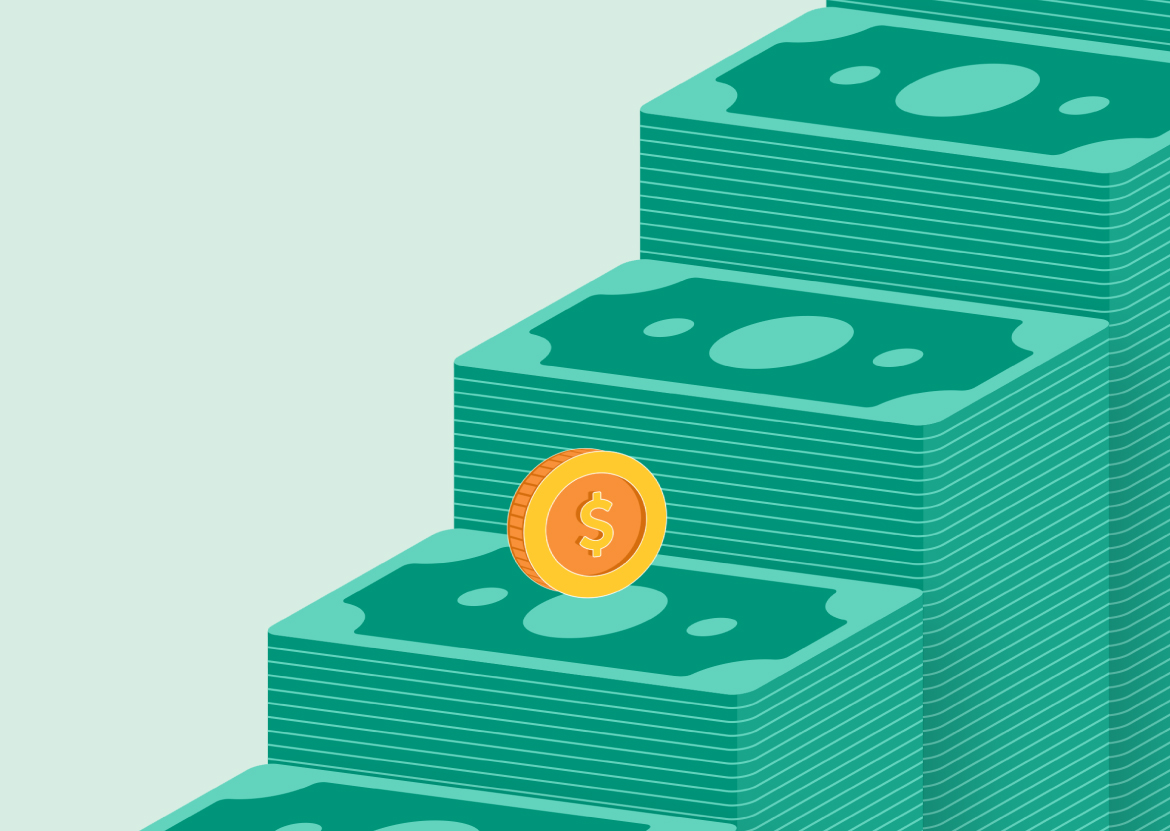 Get your hands on your direct deposits up to two days earlier
We're making direct deposits available up to two days earlier in any Frost personal checking account. So whether you're paying bills or building savings, you're worrying less and doing more with what's yours. We post qualifying direct deposits throughout the day as we receive notification the payment is coming in.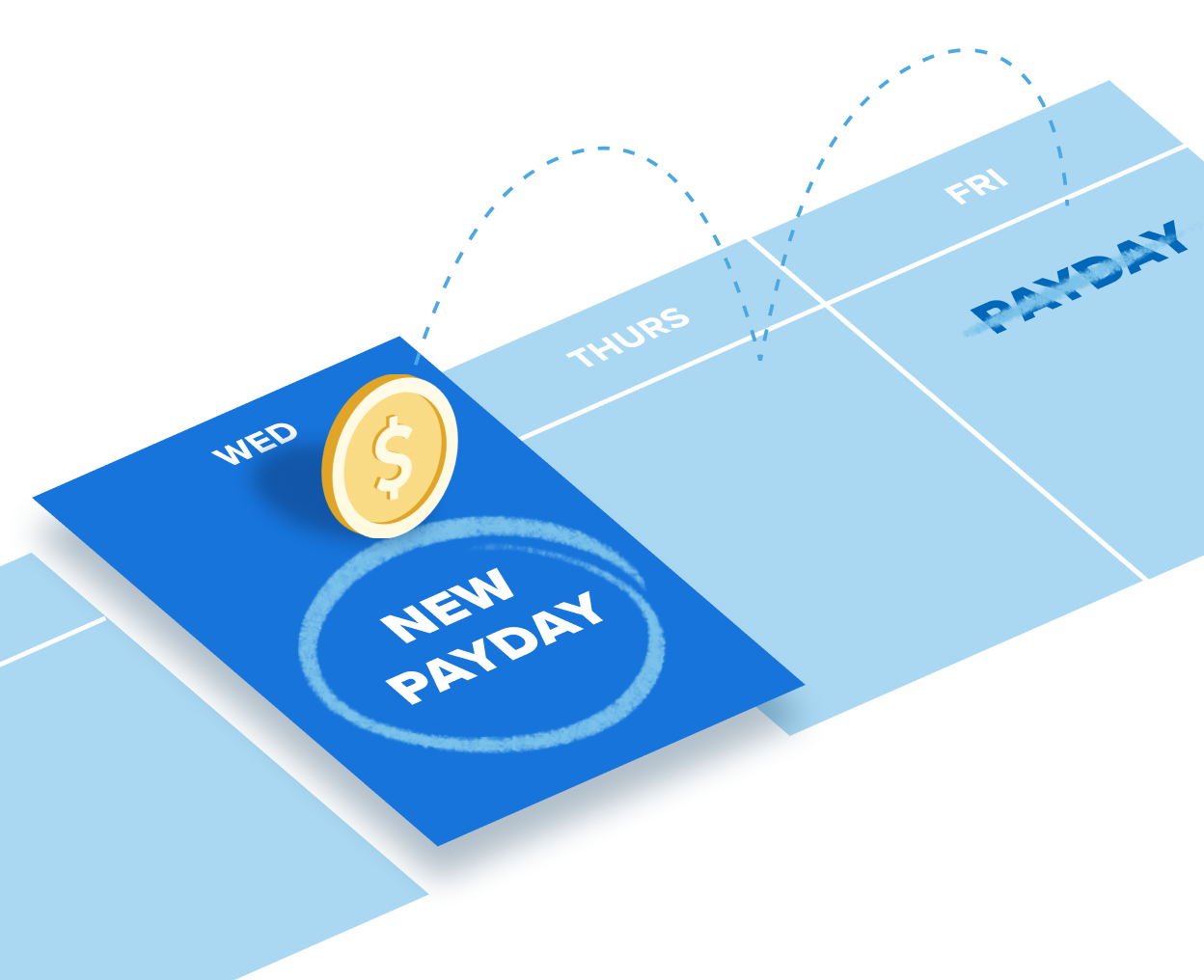 Say goodbye to fees on overdrafts of $100 or less
And say hello to a more understanding overdraft program that won't ding you for being human. So if forgetting to cancel a $7 auto-renewal causes you to overdraw your account by $100 or less, we won't charge you a $35 fee as long as you meet qualifying conditions.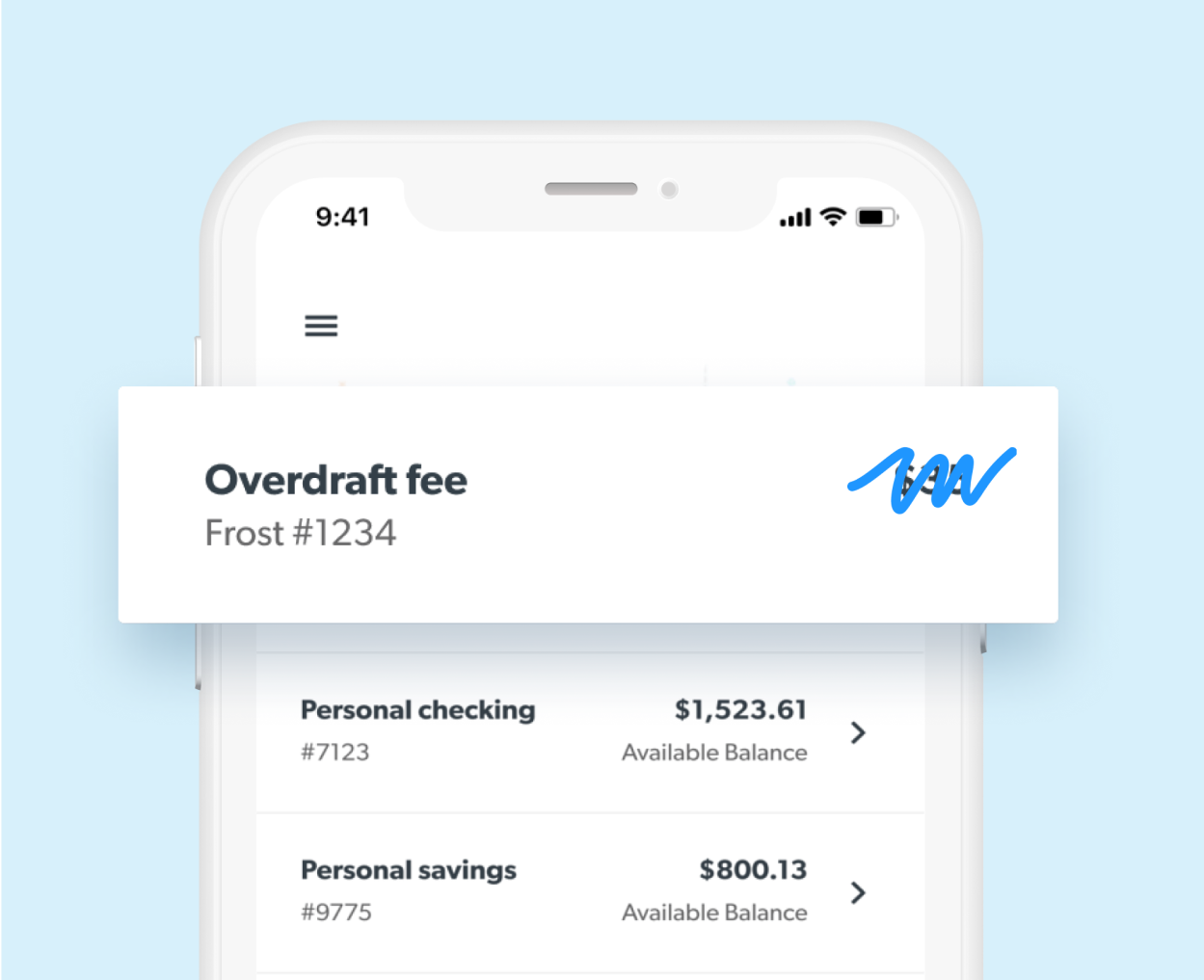 Save for every little thing.
And big things, too.
Open unlimited personal Frost Savings Accounts with no monthly service charge. Separate accounts for each goal makes it easier to track your progress as you save for a new car, dream vacation or build up your emergency fund.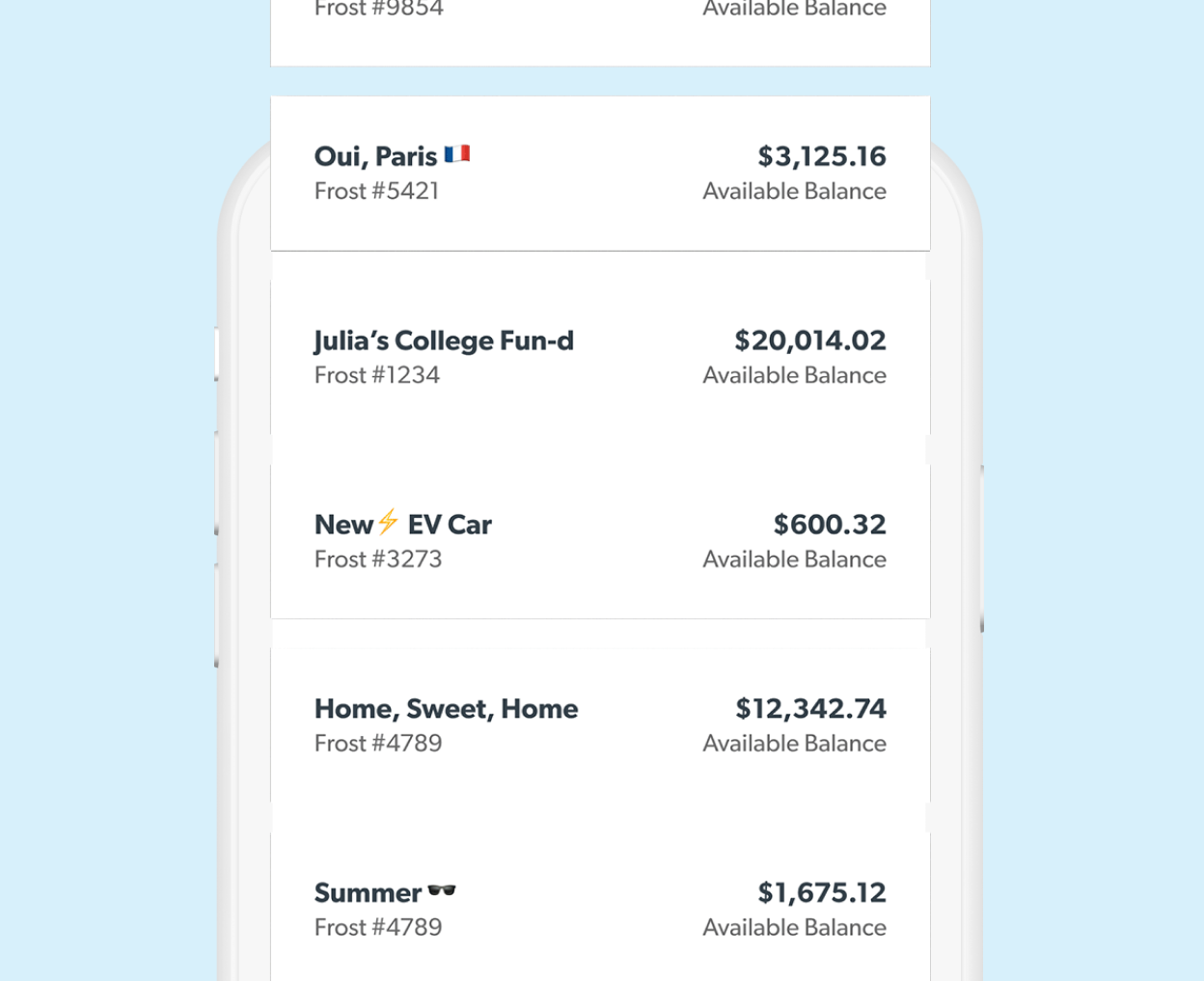 Get quick access to your funds
When you deposit money by 9 pm CT it will be available for bills, shopping or whatever you need generally the next business day.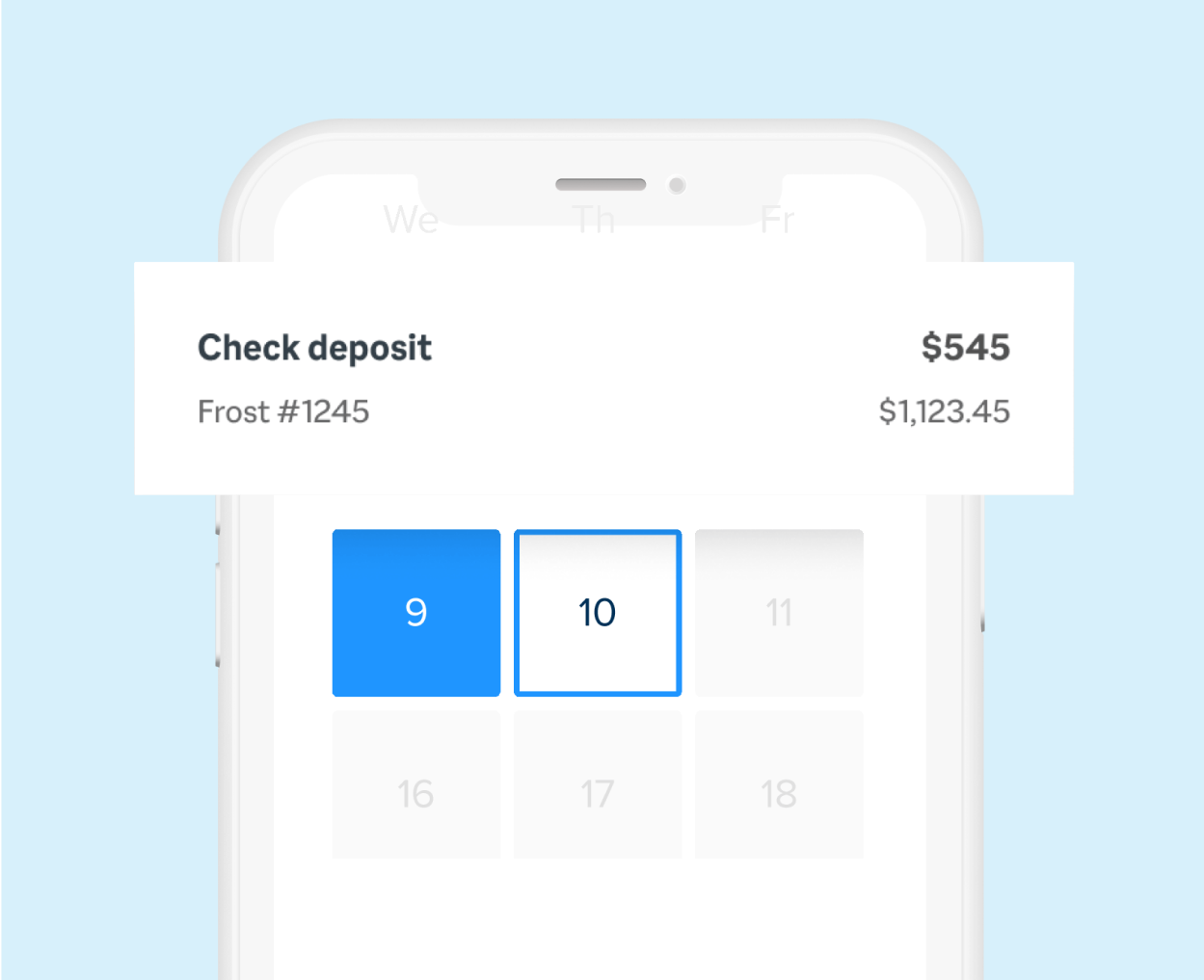 Settle up or get paid. Instantly.
If you've got their email address or mobile number, you can send, request or receive money from friends or family with Zelle®. No matter who they bank with.*
* Must hold a U.S. bank account and email or mobile number.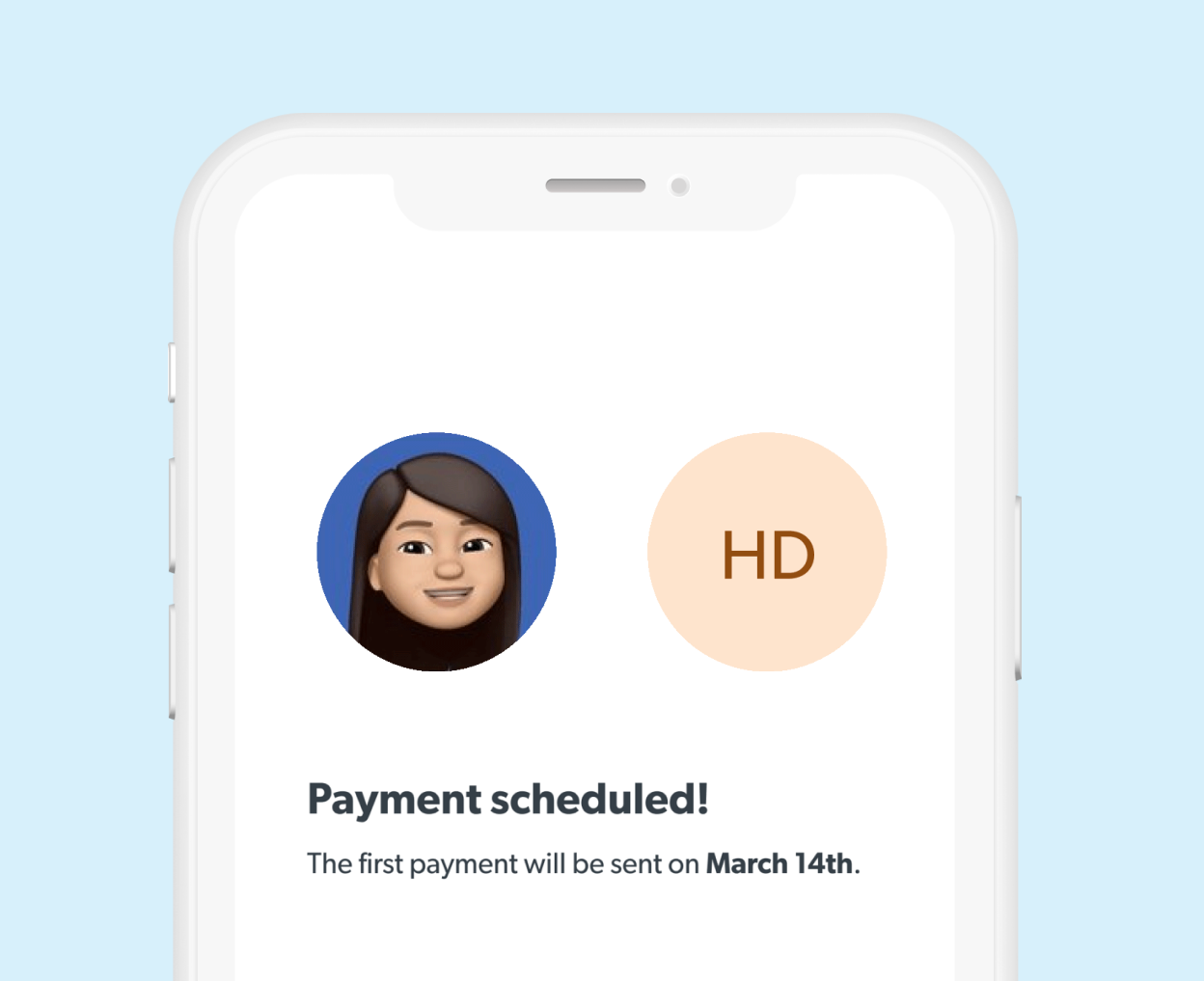 Stay ahead of fraud
With customizable Debit Card Alerts, you'll hear from us if a transaction on your account looks suspicious.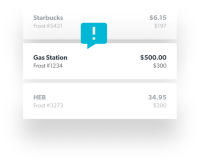 Our fine print has nothing to hide
| | |
| --- | --- |
| Interest Rate and APY | If your daily balance is $5,000 or more, the interest rate paid on the entire collected balance in your account will be 0.08%, with an annual percentage yield of 0.08%. The interest rate and annual percentage yield may change at any time at our discretion. Fees could reduce earnings on the account. Rates effective 12/03/2023. |
| How the Interest Rate is Calculated | We use the daily balance method to calculate the interest on your account. This method applies a daily periodic rate to the collected balance in the account each day. |
| How Interest is Compounded | Interest will be compounded and credited to the account monthly. If you close your account before the interest is credited, you will receive the accrued interest. |
| When Interest Begins to Accrue | Interest begins to accrue no later than the business day we receive credit for the deposit of non-cash items (for example, checks). |
Frost ATMs​
$0
Pulse Point-of-Sale Terminals
$0
H-E-B, Corner Store, and Circle K Locations in Texas
$0
Non-Frost ATMs
$2 for any Inquiries, Transfers or Withdrawals while using a non-Frost ATM, plus any fees the ATM owner charges.
Notice regarding ATM fee by others - If you use an automated teller machine that is not operated by us, you may be charged a fee by the operator of the machine and/or an automated transfer network and you may be charged a fee for a balance inquiry even if you do not complete a funds transfer ​
Overdrafts created by check, in-person withdrawal, ATM withdrawal or other electronic means

$35 for each item we pay that overdraws your account by more than $100, up to a maximum fee of $105 per day.

We will not charge you an overdraft fee if:

your transaction is $5 or less
your debit card transaction was authorized with sufficient available funds
your debit card or ATM transaction is declined
your ACH or check is returned unpaid

Overdraft Protection Transfer, each advance from:

Another deposit account
Line of credit (subject to credit approval)



$0
$0 (interest will apply on the outstanding balance)
| | |
| --- | --- |
| Account research/Statement balancing | $20 per hour ($20 minimum) |
| Check certification | $10 |
| Check copy | $2 per item (first five items free for imaged customers) |
| Check order | Fee varies |
| Cashier's check | $5 per item |
| Money order | $5 per item |
| Return item | $0 per item |
| Statement copy | $2 per copy |
| Stop payment | $30 per item |
| Outgoing wire transfer | Fee varies |
| Incoming wire transfer | $15 |
| Domestic collection item | $20 per item |
| Foreign collection item | $40 per item |
| Hold mail at financial center for pick-up | $10 per month |
Bank where you matter
At our core, we're just people helping people. We're passionate about supporting your financial goals, keeping your money accessible and offering help when you need it.

Real human support
Here for you all day. And all night. Don't let your financial questions or concerns make you lose sleep. Give us a call 24/7 at (800) 513-7678, or schedule an appointment to see us in person during business hours.

Easy access to your money
Enjoy fee-free ATM withdrawals at H-E-B and Circle K locations statewide, plus CVS and Walgreens stores in Dallas and Tarrant County.

Providing peace of mind
Our technology and security tools including freezing your card in the app or customizing Debit Card Alerts are designed to help you feel more at ease that you can monitor your own money.
See what our customers say about us
When you have an account with Frost, you have a relationship with Frost. We'll answer the phone when you call 24/7, right here in Texas. Don't take our word for it. Here's what our customers have to say about us.
There are no surprise charges, they're always there to help people. I've always been very happy with Frost.
This sounds so silly, but I love my bank. I love the friendliness, I love the customer service, I love how they treat you the same regardless of if you have $10 or $10 million.
I love the ability to contact customer service 24/7 and now many of the issues I have are fixable on my app.