---
App for iPhone®
There's no other app like it, with innovative features, intuitive design and a mobile banking experience that could only come from Frost.
Watch Video


---
Connect with Apple Watch

The Frost App for Apple Watch lets you check balances and the last 20 transactions. Learn about Frost App for Apple Watch.

---

Freeze/Unfreeze Card

Temporarily freeze your debit card to prevent unwanted purchases or withdrawals if your card has been lost or stolen. Unfreeze your debit card to resume normal activity.

---

Log in with Touch ID

Designed for Touch ID-enabled iPhones, this new feature lets you log in with just the touch of your finger. Learn more about Touch ID.

---

Log in with four-digit PIN

Simple four-digit PIN login

---

Search transactions

Tap anywhere in the Search Transactions box to filter transactions using keywords.
Tap the information icon to view your account and routing number.
Tap to search by a specific type of account activity and/or period of time.

---

Deposit checks with camera

One of the highest daily deposit limits in the business (up to $25,000 for personal/$100,000 for business accounts.)*
View front and back of images of deposited checks.
Make deposits until 9 p.m., and they'll generally be available the next business day.
No waiting period. Start using this feature the same day you open an account.

---

Extra layer of security

PIN is unique to your phone, making it more secure than just a user ID and password.
If phone is lost or stolen, app can be disabled online or by calling Frost.

---

Transfer money anywhere in the U.S.

Schedule one-time or recurring transfers.
View transfer history.
Transfer funds between your Frost accounts and accounts at other U.S. financial institutions.

---

Find a nearby Frost financial center or ATM

Search for Frost financial centers and ATMs, based on your current location.

---

Talk directly to a Frost Banker

Call Frost with the touch of a button, from anywhere in the app.

---

Create memos

Create memos for each transaction.

---

View and save check images

View images of your cleared checks.

---

Pay bills on the go

Pay your bills with a few simple steps.

---

See real-time account activity

Tap the information icon to view your account and routing number.
Keep up with your running balance.
Get up-to-the-minute transaction information.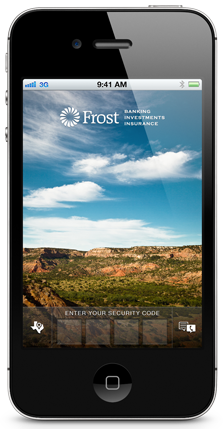 ---
Get help and support